Hello and welcome to my home on the cyberspace!
This website contains my thoughts on cybersecurity and privacy related to people, technology, and business. I built it from the ground up and once in a while play on it to keep up my technical skills.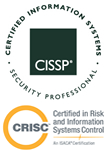 I am an Information Security Consultant by profession with Certified Information Systems Security Professional (CISSP) and Certified in Risk and Information Systems Control (CRISC) certifications. I started my career in the late 90s as a website developer in South Asia where the internet was in its infancy then. I moved to North America in 2000 as a Software Consultant and my first stint in the US was on a Partner Relationship Management product and then moved on to work for JPMorgan Chase & Co.
Initially, I started developing their global entitlements engine but then moved on to create security software based on Public Key Infrastructure (PKI), Cryptography and Digital Certificates. I designed and led the engineering effort to build Digital Signature software based on a patented technology called Portable Security Transaction Protocol. It's part of the Multi-Factor Authentication used on the homepage of http://jpmorganaccess.com. The opportunity that I got with JPMorgan Chase helped me build my base on various technology platforms. My team, aka SWAT of the business division, was very good at production troubleshooting and handling incidents. I moved on to BMO Bank of Montreal to work as Information Security Officer for its data warehouse division, then as Security Architect with TELUS Telecommunications and Manulife Financial. Currently, I work for one of the largest financial institutions in the world.
My professional engagement includes information security risk management, conduct IT audit, perform third-party security assessments and architect new solutions. As a hobby, I play around with open source systems that help maintain my coding skills. Though I hold a degree in Electrical and Electronics Engineering, I struggle to remember how Ohm's Law applies to electrical transformers.
I just finished a major milestone completing my MS in Information Security and Assurance (MSISA) with Norwich University. I will be sharing some of my notes from the MSISA program here.
For some, I am known as Shaheen Nasirudheen and for others as Shaheen Abdul Jabbar. Thanks to my producers for a long name 😉
You can connect me on LinkedIn. Feel free to post your comments or thoughts.